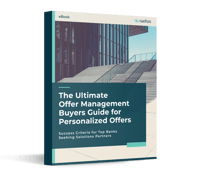 Executing on personalized offers has become a clarion call for financial services companies in today's environment. The threat from big tech has made the need to deliver relevant products and pricing a "must have'' strategy to survive and thrive. Now, more than ever, effective and efficient offer management solutions are vital to greater personalization and profits for financial services institutions.

We leveraged our expertise and best practices from the top three financial institutions to bring you Offer Management Buyers Guide for Personalized Offers. You'll discover:
The importance of articulating a clear vision, including goals, use cases and KPIs
How to ensure the solution meets all the functional requirements of the entire offer lifecycle -- strategy, eligibility, presentation, and fulfillment
Why including non-functional considerations such as third-party integrations, an enterprise-grade solution and industry expertise are essential when selecting a partner
You'll also have access to the extensive Requirements Checklist template, a one-stop guide of 75+ requirements to start you on the adventure of selecting the right vendor for building personalized offers that deliver greater experiences for your customers and profits to your organization.