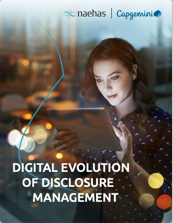 The two biggest buzz words in the financial services industry today: digital transformation. From the floor of the recent Consumer Bankers Association (CBA) annual event to industry experts at Capgemini, and in banks and fintech firms large and small, everyone's laser focused on how to get and keep a competitive edge by automating disclosures.
We've teamed up with Capgemini to offer a look into specific ways to do just that. Check it out.
Take a quick look at what you'll learn:
Addressing Common problems of unrefined disclosure management process

es

Top 6 Components to look for in a disclosure management platform solution

Case study from a Top Bank: reducing cycle time and minimizing regulatory risk
The race to resources is on. In this complicated and highly-regulated finserv space, there is no time to lose when seeking and finding ways to manage disclosures, improve speed-to-market, achieve regulatory compliance, and mitigating risk. It's a must read for martech leaders like you.